This site is made possible by its sponsors. Please visit them!

sable - An animal whose hair is used for making fine soft brushes.
Also see Kolinsky.
saccade - A rapid, simultaneous movement of both eyes from one still position to another. Derived from a French word for twitch, saccade is a typical occurence in visual perception — the eyes fixing on one point after another in the visual field.
Humans and other animals do not look at a scene in a steady way. Instead, the eyes move around, locating interesting parts of the scene and building up a mental 'map' corresponding to the scene. One reason for saccades of the human eye is that the central part of the retina, the fovea, plays a critical role in resolving objects. By moving the eye so that small parts of a scene can be sensed to obtain greater closure, the body's optical resources can be used more efficiently.
The dynamics of saccadic eye motion give insight into the complexity of the mechanism that controls the motion of the eye. The saccade is the fastest movement of an external part of the human body.
The peak angular speed of the eye during a saccade reaches up to 1000 degrees per second. Saccades last from about 20 to 200 milliseconds.The duration of a saccade depends on its amplitude. The amplitude of a saccade is the angular distance that the eye needs to travel during the movement. For amplitudes up to about 60 degrees, the duration of a saccade linearly depends on the amplitude (so called "saccadic main sequence"). In that range, the peak velocity of a saccade linearly depends on the amplitude. In saccades larger than 60 degrees, the peak velocity remains constant at the maximum velocity attainable by the eye. Thus, the duration of these large saccades is no longer linearly dependent on the amplitude.

A photograph of the head of a woman on which a scientific instrument has documented the trail (index) of saccades of a person who viewed it.
In addition to the kind of saccades described above, the human eye is in a constant state of vibration, oscillating back and forth at a rate of about 60 per second. These microsaccades are such small movements that they are entirely imperceptible under normal circumstances. They serve to refresh the image being cast onto the rods and cones at the back of the eye. Without microsaccades, staring fixedly at something causes visual distortions after a few seconds since rods and cones respond best to changes in color and luminosity. (See afterimage.)
The word appears to have been coined in about 1878 by French ophthalmologist Louis Émile Javal (1839-1907), who used a mirror on one side of a page to observe that in reading, the eyes are involved in a succession of discontinuous individual movements. Others noted that saccades occur in all visual activities.
Saccadic is the adjectival form, and saccadically the adverbial form.
(pr. sə-KAHD)
Also see sight.
sacra conversazione - A grouping of the Madonna, Child, and saints in the same spatial setting, so that they appear to be conversing with one another. Italian, literally for "holy conversation."
(pr. SAH-krə KOHN-vər-SAHT-zee-OH-nə)
Examples:

Moderno (Galeazzo Mondella?) (Italian, working 1490 - 1540), Sacra Conversazione, c. 1510, silver, fire gilding, 13.9 x 10.2 cm, Kunsthistoriches Museum, Vienna. See relief and Renaissance.

Giovanni Bellini (Italian, Venice, 1430?-1516), Sacra Conversazione, 1505, oil.

Paolo Veronese (Italian, 1528-88), Sacra Conversazione, c. 1560s, oil on canvas, New Orleans Museum of Art, LA.
sacral-idyllic scene - A landscape depicting country life and idealized nature.
Also see buckeye, pastoral, picturesque and rustic.
safety - Safety issues are covered within most articles about art materials, tools, and processes.
Also see AP, Art & Creative Materials Institute (ACMI), ASTM International (American Society for Testing and Materials), CL, ergonomics, flammable, hazardous, Material Safety Data Sheet (MSDS), pneumosparklyosis, poison, preparator, and toxic.
salon - [lower case s] A large room, such as a drawing room, used for receiving and entertaining guests. A hall or gallery for the exhibition of works of art. A periodic gathering of people of artistic or social distinction. Or, a commercial establishment offering a product or service related to fashion, such as a couturier or a beauty salon.
Also see Salon.
Salon or Paris Salon or Salon d'Apollon - [upper case S] The annual art exhibition of painting and sculpture by the French Royal Academy of Painting and Sculpture, later known as the Académie des Beaux-Arts. Although from the seventeenth century informal exhibitions were held in the Salon d'Apollon, in the Louvre, not until the nineteenth century did the Salon assume its paramount importance. Exhibits were selected by a jury and acceptance generally secured an artist's sales and reputation, while further prestige attached to the medals awarded for painting, sculpture and printmaking. As the century progressed, the academic and increasingly conservative jury rejected many innovatory artists until in 1863 Napoleon III established a Salon des Refusés in response to the protest against the number of works rejected by the official Salon that year. By 1870 the Salon had become synonymous with conventional art and had declined in importance.
Also see Salon des Indépendents, Salon d'Automne, secession, and skyed.
Salon d'Automne - A Parisian exhibition that has been held every year since its inception in 1903 as a reaction to the conservative policies of the official Salon. The Salon d'Automne displayed the paintings of Henri Matisse (French, 1869-1954) and Paul Cézanne (French, 1839-1906) in its early days, gaining acceptance for their work.
Salon des Indépendants - An annual art exhibition held in Paris by the Société des Artistes Indépendents — a group of painters, including Georges Seurat (French, 1859-1891), Paul Signac (French, 1863-1935), and Odilon Redon (French, 1840-1916). Seurat and Signac were the principal founders of the society, which was formed in 1884 following the rejection of their work by the selection committee at the official Salon held by the Académie des Beaux-Arts. Their Salon had no selection committee and the rules allowed any artist to enter a painting on payment of a fee. The society lasted until the beginning of World War I.
Also see Neo-Impressionism.
Salon des Refusés - An art exhibition held in Paris in 1863, set up by the government at the urging of the artists involved, as an exhibition of paintings that had been refused by the official annual Salon of the Académie des Beaux-Arts. The show's major sensations were two paintings by Édouard Manet (French, 1832-1883), each considered scandalous — Luncheon on the Grass (Le Déjeuner sur l'herbe), for portraying nude and clothed figures together in a scene of everyday life, and Olympia, for portraying a nude prostitute, whose form was not typical of those considered ideal. Other exhibitors were Claude Monet (French, 1840-1926), Camille Pissarro (French, 1830-1903), and James A. M. Whistler (American, 1834-1903).
Some works in the Salon des Refusés:
Édouard Manet (French, 1832-1883), Luncheon on the Grass (Le Déjeuner sur l'herbe), 1863, oil on canvas, 81 x 101 cm, Musée d'Orsay. See after, gaze, Realism, and Salon des Refusés. Manet's work formed a bridge to Impressionism.

Édouard Manet, Olympia, 1863, oil on canvas, 51 3/8 x 74 3/4 inches (130.5 x 190 cm) Musée d'Orsay, Paris. See odalisque.
Also see aestheticism, fin de siècle, Impressionism, and salon.
Samian pottery - See terra sigillata.
sampler - A piece of cloth embroidered with a variety of designs or mottoes, which demonstrates skillful use of various stitches. Such compositions of varied needlework were popular accomplishments among American girls in the eighteenth and nineteenth centuries.
Examples:
Patty Coggeshall (American, 1780-1797, Bristol, RI), Embroidered Sampler, c. 1792, linen embroidered with silk thread, 19 1/2 x 16 5/8 inches (49.5 x 42.2 cm), Metropolitan Museum of Art, NY.

Rebekah S. Munro (American, 1780-1803, Providence, RI), Embroidered Sampler, c. 1791, linen embroidered with silk thread, 15 3/4 x 11 3/4 inches (40.01 x 29.85 cm), Metropolitan Museum of Art, NY.

Anna Sanders (American, Rhode Island, 1791-1860), Sampler, 1801, silk thread on linen, Worcester Art Museum, MA.

Mary Jones (American, Pennsylvania), Dresden-Work Sampler, 1795, linen embroidered with silk and cotton thread, 15 1/4 x 13 1/4 inches (38.7 x 33.7 cm), Metropolitan Museum of Art, NY.
Other resources:
Also see textile.
samsara - In Hindu belief, the rebirth of the soul into a succession of lives.
(pr. som-SAH-rah)
sancai - Chinese for three-colored, and almost invariably refers to lead-glazed earthenware pottery fired at low temperature. The height of sancai pottery was achieved during the T'ang dynasty, 618-906 CE. Its colors were most typically yellow, white, green, brown and blue. The sancai products of the T'ang dynasty are mostly human figures, horses and camels, many of which were intended to accompany human burials.
Examples:
China, Pair of Lokapala, T'ang dynasty, c. 700-750, earthenware with sancai lead glazes, each 40 7/8 x 16 1/2 x 11 3/4 inches (103.8 x 41.9 x 29.8 cm), Dallas Museum of Art. Lokapala are heavenly guardians.

China, Tomb Figurines of a Pair of Horses,T'ang Dynasty, 8th century, earthenware with sancai lead glazes, white horse: height 71.2 cm, length 82.5 cm; black horse: height 70.0 cm, length 76.5 cm, Kyoto National Museum.

Japan, Nara Period, 8th century, Jar with cover, three-color glaze, excavated at Taishokukanyama, Ibaragi-shi, Osaka, height 15.6 cm, Tokyo National Museum. Japanese authorities have designated this piece an "Important Cultural Property." See Japanese art.
sanctuary - The part of a Christian church around the altar. Also see altarpiece and iconostasis.

sand - Small, hard particles of sedimentary minerals. Sand is used in many art techniques and

processes, including abrasives, casting or molding, cement, mortar, ceramics, glass, and painting.
Rarely is sand an art medium without other materials (binders, aggregates, etc.), but for many on sandy beaches and in sandboxes, it's an invitation to sculpt. Sandcastles have played a role in many a budding artist's sculptural juvenilia. The medium has been taken up by increasing numbers of adult practitioners who debate the controversies of using armatures and binders (other than water) when modeling mammoth piles in places where sand must be trucked in.
Airborne sand and all other dusts are hazardous to breathe.

A user should wear an appropriate dust-mask and eye protection, or be very effective in preventing dust from damaging the workplace's atmosphere.
Sand can be refined by passing it through screens in order to filter out other materials, and to separate particles into various standard sizes:
| | |
| --- | --- |
| Size Term | |
| granule | 2 to 4 |
| very coarse sand | 1 to 2 |
| course sand | 1/2 to 1 |
| medium sand | 1/4 to 1/2 |
| fine sand | 1/8 to 1/4 |
| very fine sand | 1/16 to 1/8 |
| silt | 1/256 to 1/16 |
| clay | less than 1/256 |
Example of work using sand:
Ana Mendieta (Cuban, active in America, 1948-1985), Nile Born, 1984, sand and binder on wood, 2 3/4 x 19 1/4 x 61 1/2 inches (7 x 48.9 x 156.2 cm), Museum of Modern Art, NY. See feminism and feminist art.
Related resources:
Also see abrasion, grind, hazardous, mandala, pigment, sandstone, silica, silicate, and triturate.
sand casting or sand molding - A method of casting in metal in which a mold is made by firmly packing layers of very fine damp sand around a sculpture. When the original is removed an exact impression is left in the sand. The more complex is the form to be cast, the more likely it will be a piece mold, and of several pieces. Medals were commonly cast in sand molds during the Renaissance. Sand casting was employed greatly in the nineteenth century for the creation of bronze sculpture in edition, most famously by French foundries. The equivalent to the sand mold in lost-wax casting is the investment.
sandstone - A sedimentary rock formed by the compacting of grit or sand with a high silica content bound in a natural cement — the silica itself. Many sandstones are soft and easily eroded, but some are quite hard and durable. Sandstone is generally more difficult to carve than limestone, for the particles wear down the metal of the chisel. Some sandstone can be polished.
Examples:
Egypt, Nubia, Dendur, The Temple of Dendur, c. 15 BCE, early Roman period, sandstone, length from gateway to rear of temple 82 feet (25 m), Metropolitan Museum of Art, NY.

Meroitic, Prince Arikankharer Slaying His Enemies, 25-41 CE, sandstone, Worcester Art Museum, MA. See Meroitic art.

India, Mathura, Uttar Pradesh, Standing Buddha, Gupta period (c. 319-500), 5th century, mottled red sandstone, height 33 11/16 inches (85.5 cm), width 16 3/4 inches (42.5 cm), Metropolitan Museum of Art, NY. See Buddhist art.

India, Mughal dynasty, found at/reportedly from Fatehpur Sikri, India, Jali screen, one of a pair, second half of the 16th century, carved red sandstone, 73 1/4 x 51 3/16 x 3 9/16 inches (186 x 130 x 9 cm), Metropolitan Museum of Art, NY. See screen.
Other resources concerning sandstone:
sanguine - A red chalk drawing medium.
Example:
Harrison Fisher (American, 1877-1934), Zelda Fitzgerald (1900-1947), sanguine conté crayon on paperboard, 1927, National Portrait Gallery, Washington, DC. Zelda was the wife of writer F. Scott Fitzgerald.
Also see conté crayon.
sans serif - In typography, a letter designed without serifs — "without stroke". Also called blockletter. The oldest lettering in recorded history was sans serif. Though it is widely used in graphic design, it is so basically simple that it offers little variety for advertisers and publishers. And because it is generally found to be more difficult to read, it is avoided for longer texts in most publications. Examples of type fonts of this kind are Gothic and Helvetica.
(pr. sanz SE-rif or sahnz seh'rif)
Also see advertisement, advertising, and readability.
santero - An artist who creates santos.
santo, santos - Santos are religious icons or folk pictures and simply painted wooden sculptures of holy figures produced throughout Latin America and southwestern U.S.A. A santo is votive art, rarely intended to be physically descriptive of a person, so much as to be the symbolic embodiment of an ideal. Types of santos include retablos, bultos, and Christo crucifado. Retablos are painted on flat pieces of wood. Bultos are carved out of wood, and sometimes painted as well. A Christo crucifado is a crucifixion scene.
Examples:
Unknown New Mexican santero, Santo, c. 1765-1812, tempera on modeled gesso on wood panel, as rendered by Maude Valle, 1936, watercolor, colored pencil, and graphite on paperboard, .431 x .323 m (17 x 12 11/16 inches), Index of American Design, National Gallery of Art, Washington D.C.

José de Gracia Gonzales (American, New Mexican santero), San Jose, retablo, c. 1850-75, painted wood, Millicent Rogers Museum, Taos, NM.

"The Isleta Tin Smith," New Mexican santero, Madonna and Child, cut and pierced tin, paper and reverse painted glass, c. 1900, Millicent Rogers Museum, Taos, NM. See Madonna.

Unknown Hispanic New Mexican santero, San Acacio, bulto, c. 1880, painted wood, Millicent Rogers Museum, Taos, NM. See crucifix.

Also see ex voto, milagro, and retablo.
saponify - To turn into soap by decomposition with alkali.
sapwood - See heartwood.
S.A.S.E. - S.A.S.E. is an abbreviation for "self-addressed stamped envelope." Arts organizations often ask artists submitting work for exhibitions, etc. to include S.A.S.E. In this way such organizations save themselves time and expense meeting their responsibilities in replying to submissions, and perhaps in returning materials as well. Information from arts organizations sometimes includes disclaimers of responsibility to return materials. Although artists should expect to receive replies and the return of their materials in a timely manner, whenever assurances of such practices are not received, it's wise to inquire.
sash clamp - A straight clamp with adjustable fittings, used in wood construction.
Sassanian art - See Mesopotamian art.
satinato - See semi-matt.
satire - Irony, sarcasm, or derisive wit used to attack or expose vice, folly, or stupidity. Caricatures are commonly satirical whenever they are critical.
Examples of satirical works:
Thomas Rowlandson (1756-1827).

Robert Cruikshank (English, 1789-1856).

Jose Guadalupe Posada (Mexican, 1852-1913), Calavera depicting contemporary newspapers as skeleton cyclists, c. 1889-1895, broadside, engraving on type metal. José Posada was an artist during a time in Mexico of great political and social revolution. Posada was an outspoken critic of the long ruling government of the dictator Porfirio Díaz. He was an artist for the common people of Mexico. Posada was also a political satirist. Many times local and state governments were the objects of political satire. In contrast, Emiliano Zapata, a popular hero of the Mexican Revolution, was often portrayed by Posada as noble, upright, and honorable. Also see etching.

American, Voting for Dummies, 2000, a mock book-cover satirizing the causes of the contested US presidential election of 2000, as it parodies the series of . . . for Dummies books, 1990s to the present. See text.

American, Bush-Cheney Campaign Poster: Negative 2.6 Million Jobs Created and Counting, 2004. This is a satirical poster by liberals opposed to the re-election of President George W. Bush. It was designed by a visitor to the White House Web site using the "Sloganator" software posted there at the time.
Also see appropriation, cartoon, content, narrative art, parody, transgressive art, and trope.
saturation - A color's purity of hue; its intensity. A pure hue has the highest saturation. This is illustrated in the middle ring of the color wheel below. A brilliant color is strongly saturated, and also very light in value. A deep color is also highly saturated, but has little lightness. A pale color is little saturated and has great lightness.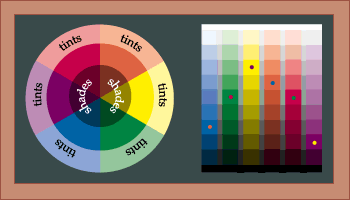 Value and saturation are not constantly related. For example, in the other diagram above, high-saturation yellow has a higher value, while high-saturation violet tends to have a low value.
Another resource concerned with saturation:
"Saturation" is also what some call the second stage of the creative process: Researching and drawing from life experiences (memory), networking, etc. This stage is sometimes referred to as "discovery."
Also see deep, fluorescent colors, shade, tint, tone and value.
satyr - In Greek mythology, a kind of demi-god or deity; a follower of Dionysus. He is wanton and lascivious, and often represented with goatlike ears and legs and a tail. A satyr is often found cavorting with one or more maenads, ecstatic women, especially Bacchants, who were priestesses, votaries of Dionysus (Bacchus). An older satyr is called a silenos.
(pr. SA-tər)
Examples:
Greek, fifth century BCE, Ithyphallic Satyr Playing an Aulos for a Maenad, detail of a red-figure vase, Syracuse Museum. An aulos is a double flute.

Michelangelo (born Michelangiolo Buonarroti) (Italian, 1475-1564), Bacchus, 1496-97, marble, height (with base) 6 feet 7 5/8 (195 cm), statue (without base) 6 feet 3/8 inch, Museo Nazionale del Bargello, Florence. There is a little Faun (or Satyr) eating grapes from a panther skin which Bacchus holds in his left hand. This work was carved in Rome, in 1496, for the collector Jacopo Galli. In Roman mythology, a faun, like a satyr, is a rural deity represented as having the body of a man, and the horns, ears, tail, and sometimes legs of a goat. Although he was associated with Bacchus, the Romans seem not to have placed as much emphasis on the mischievous qualities of fauns as the Greeks did of satyrs. See Renaissance and sculpture.

Nuremberg School (last quarter of the 16th century), Satyr Mother with a Child Satyr, bronze, height 10 5/16 inches (26.2 cm), Frick Collection, NY. See German art.

William-Adolphe Bouguereau (French, 1825-1905), Nymphs and Satyr, oil on canvas. See kitsch.

Pablo Picasso (Spanish, 1881-1973), Satyr and Sleeping Woman, 1936, etching, 31.2 x 41.5 cm, Tate Gallery, London.
Also see Greek art.
http://www.artlex.com
Copyright © 1996-