chiaroscuro - A word borrowed from Italian ("light and shade" or "dark") referring to the modeling of volume by depicting light and shade by contrasting them boldly.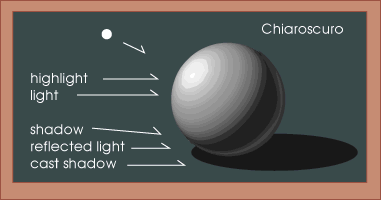 This is one means of strengthening an illusion of depth on a two-dimensional surface, and was an important topic among artists of the Renaissance.
(pr. kee-ahr'oh-scyoo"roh)
Examples of the use of chiaroscuro:
Gerard David (Netherlandish, c. 1455 - 1523), The Rest on the Flight into Egypt, c. 1512-15, oil on wood panel, 20 x 17 inches (50.8 x 43.2 cm), Metropolitan Museum of Art, NY. See drapery, Northern Renaissance, and vignette.

Albrecht Altdorfer (German, c. 1480-1538), Samson and Delilah (Judges 16:19), 1506, pen and dark brown ink, heightened with white, on brown prepared paper, 6 11/16 x 4 3/4 inches (17.0 x 12.0 cm), Metropolitan Museum of Art, NY.

Ugo da Carpi (Italian, active c. 1502-32), designed by Baldassare Peruzzi (Italian, 1481-1536), Hercules Chasing Avarice from the Temple of the Muses, c. 1518 (?), chiaroscuro woodcut from two blocks, Metropolitan Museum of Art, NY.

Rembrandt Harmensz. van Rijn (Dutch, 1606-1669), Self-Portrait at Twenty-Two, 1628, oil on panel, 22.6 x 18.7 cm, Rijksmuseum, Amsterdam, Netherlands.
"Chalkboard" on drawing skills. It has an excellent page on chiaroscuro where the large drawing above is explained. Chalkboard is produced by Ralph Larmann, on the art faculty member at the University of Evansville, IN.
On May 28, 1998, Jody-Anne Maxwell (Jamaican, 1986-) won the Scripps Howard National Spelling Bee by correctly spelling the word "chiaroscurist" — an artist who uses chiaroscuro.

Also see grisaille, highlight, and shadow.
http://www.artlex.com
Copyright © 1996-